Products and moulds
We make a large range of quality products including showers, motor home accessories, storage and aquaculture tanks and vehical parts.
---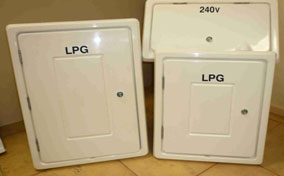 GAS and Power Lockers for motorhomes
We have 3 standards sizes to fit –
6kg LPG Gas Bottle
9kg LPG GAS Bottle
Camper Power Cables
These lockers are generally used for campers but can be purchased to house almost anything and can be produced in most colours.
---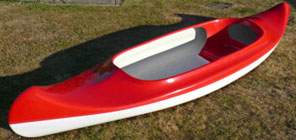 Children's Canoes
Awesome childrens or smaller sized canoe.
Very sturdy, fine for adults.
2.5m long x 700mm wide. Fibreglass seat
Sitting area is 1.16m long x 490mm wide
Pictured here in red and white can be made in your colour choice
Comes with manufacturers 7 year gaurantee. Paddle not included.
---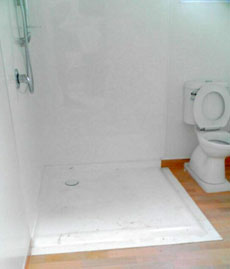 Wheelchair Accessible Shower Trays
These shower trays consist of 4 tough layers of fibreglassing materials covered with a durable, easy to clean gelcoat surface.
Renovating? Why not plan for future requirements!
Want to give a loved one some independence?
Cheaper, warmer and safer than tiles
More scratch resistant than vinyl to maintain cleanliness
Easy clean waste
Choose a colour to suit your decor!
Installation available
---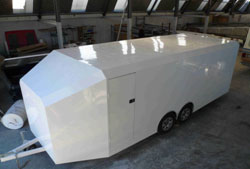 Fibreglass Flat Panel at competitive rates
Flat panel can be used for permanent signage and camper or trailer cladding as shown here.
From 1mm – 6mm thick cut to size.
DISCOUNTS OFFERED FOR BULK PURCHASES
This smart looking car trailer was cladded in fibreglass flat panel by the skillful team at Richmond Fibreglass.
---
We also have fibreglass building and repair materials, a huge range of fibreglass storages boxes and tanks, motorhome and camper accessories, bus shower and shower tray moulds, and many boating and vehicles part moulds
Richmond Fibreglass MOULD LIST
Build and Repair
Flat panel – can be made to order in a variety of thicknesses
Gutter channel
Temps builder switchboard box
Power line cable joiners
Boxes (water/storage)
Tank 3,000 ltr
Tank 10,000 ltr
80 ltr Conical Tank
Medium box with door 400d x 390l x 300w
Boot box
Motor home power box with door – standard
6kg LPG locker box- standard
9kg LPG locker box – standard
Small power box with door 200d x 410l x 200w
Boxes:
550W X 485L X 650D
819W X 594L X 744D
744W X 594L X 895D
1344W X 594L X 644D
1500W x 900H x 770D
1160W X 800L X 650D
685W x 900H x 800D
1340W x 490L x 650D
875W X 485L X 650D
1344W X 1194L X 644D
980W X 900L X 770D
800W X 1000L X 1200D
1000W X 1800L X 1200D
Motor Homes and Campers
Civilian bus cubical
Motor home sink and bench
Motor home water tank 450d x 1200l x 500 wide
Motor home water tank 840l x 590 x 350
Motor home small basins
Boot box
Motor home power pox with door – standard
6kg LPG locker box- standard
9kg LPG locker box – standard
Small power box with door 200d x 410l x 200w
Bathroom
900 x 1200 shower tray
Wheel chair shower tray 1200 x 1200
Shower trays various shapes and sizes
900 x 900 45deg shower tray
Shower seat
Bathroom floor – camping grounds
Shub shower
Civilian bus cubical
Marine and Leisure
Dingy
Boat seat pedestal
Surf ski
Seat moulds various
Mini boat hull and deck
Mini boat seat & engine hood
Kayak seat
Kayaks
Model yachts
Outdoor furniture
Kidney shaped table top
Swimming pool steps
Vehicle Accessories and parts
Hi Top – Toyota
Stock car body
Stockcar bonnet
Ford falcon trims – WAA40A101 P32R3 RR 65190
Seat moulds various
RX 7 car guards
Multi dig excavator
Motor home power box with door – standard
6kg LPG locker box- standard
9kg LPG locker box – standard
Small power box with door 200d x 410l x 200w
Motor home power box with door – standard
Tractor cab
Motor home Boot box
Horse Float roof
Fertiliser hoppers
Top dressing plane mudguards
Hues 500 helicopter panels